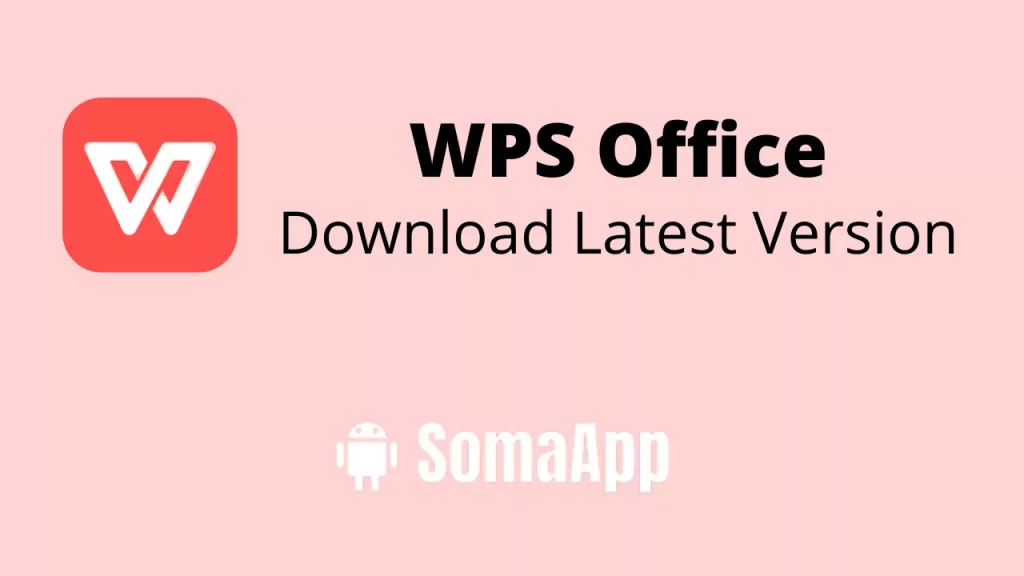 | | |
| --- | --- |
| App Name | WPS Office |
| Author | WPS SOFTWARE PTE. LTD. |
| Version | v10.6.1 |
| File Size | 32 MB |
| Category | Productivity App |
| Requirement | Android 4.1+ |
| Last Updated | 1 Day Ago |
WPS Office is an incredibly useful tool for anyone who needs to create, view and edit text documents on their Android tablet or smartphone. It is the best free office suite alternative to Microsoft Office Word, Excel, and PowerPoint. You can access a variety of WPS Office functions on mobile devices, such as scanning PDF files, editing slides, converting spreadsheets, or viewing documents anytime and anywhere.
WPS Office offers almost all the features provided by almost any business suite, for free. The best part is that it is compatible with all popular formats and allows you to make any kind of adjustments directly to your device thanks to a simple menu system designed for touch screens.
In addition to working with local files, you can also upload saved files remotely while remaining compatible with various cloud storage services. Similarly, you can use your account and storage space to transfer documents from the desktop version of the app.
WPS Office
WPS Office is an application that lets you view, edit and share text files directly on your device. It allows you to do different things with Office documents. WPS is a comprehensive office suite that integrates Word, PDF, Excel, PowerPoint, Forms, cloud storage, online editing, template library, and sharing.
The interface of the application is incredibly easy to use, allowing you to do your work using simple gestures without any hassle or complication. Use the WPS cloud to manage all documents, synchronize in real-time across mobile phones and computers, access and edit Office documents easily and directly
You can work with text documents, spreadsheets, and presentations, as the application supports most of the formats used to create and edit files: DOC, PPT, PPTX, DOCX, TXT, XLS, XLSX, and PDF. It is available in 45 different languages ​​including English, German, Dutch, French, Korean, Italian, Russian, Serbian, Arabic, and Spanish.
What Are The Benefits of Using WPS Ofiice?
WPS Office includes the ability to create and edit PDF documents, access to 1GB of storage space in your cloud solution, and a complete history of changes made in the last 7 days. Since it is a cross-platform tool, you can also interact with the Android version of the software, which is also available on opt-out. Make your day easier and simpler.
Notable features include a full office suite, including authors, presentations, and spreadsheets. This makes editing your document as easy and natural as browsing the web. It takes up less space and resources than any other suite with similar features. Moreover, it includes 230 different fonts and over a hundred templates for your projects.
In addition to providing a familiar interface for everyone who works with any of these programs, the features and supported file formats are 100% compatible with Word, Excel, and PowerPoint.
WPS Office For Android
WPS Office is a free office suite that we can use to access documents. It is an office suite with essential features where we are able to view, create or edit documents anywhere. Free templates will help you become an Office Pro. WPS is 100% compatible with Microsoft Office.
It is an ideal application for users who have to constantly work with documents, and not hide from the comfort of a computer. For this reason, it also integrates with online and email storage services to make it easier to use and increase our productivity. Install the best version of WPS for your mobile phone.
WPS Office For PC
WPS Office is a great free alternative to Microsoft Office for Windows, offering a complete package of comprehensive tools like any other commercial product. It is a comprehensive and free office suite for Windows that includes a word processor, spreadsheet, and presentation builder, along with other useful tools that are fully compatible with others.
It is one of the most popular office suites for Windows in the world. Fully compatible with Microsoft Office, WPS Writer comes with presentations and spreadsheets, allowing you to edit and create any type of document. Download the free and latest version of WPS for desktop work.
In addition to providing a familiar interface for everyone who works with any of these programs, the features and supported file formats are 100% compatible with Word, Excel, and PowerPoint.
WPS Office For MAC
WPS Office is a free, lightweight, all-in-one office suite on Mac OS that integrates all office word processor functions: Word, PDF, Presentation, Spreadsheet, Cloud, and Collaborative Services. This app comes with an intuitive user interface design.
Its suites come with an extensive list of useful features. It is also quite versatile and integrates well with other similar software. Plus, it comes with a familiar ribbon interface, so you can use it with ease. Overall, WPS Office is a valuable alternative to MS Office.
Features
The app provides built-in optical character recognition (OCR) capability, which enables employees to convert printed letters or images into digital text in real-time. The features include cloud storage, automatic backup, template gallery, scanning, file recovery or repair, multi-language support, and more.
With WPS data recovery software, administrators can scan deep data and retrieve permanently deleted data including photos, audios, and videos. Take a look at these features described in detail.
Templates: WPS provides office users with a rich gallery of high-quality templates and online resources designed by professional designers. You can easily find suitable templates in many categories including resumes, memos, and presentations.
WPS Cloud: A professional cloud storage service for office files with 1GB of free space for PC and iOS devices. Android service coming soon. With just one click, it can share your documents via a link. This way documents can be viewed and edited anywhere and anytime.
Section Navigation: The section navigation tool makes it a piece of cake for jumping between sections. Access your surface pages, content pages, headers, and footers, or split and delete sections.
Multiple Tabs: Avoid the hassle of switching between multiple document windows. The tab bar that appears above the editable area allows you to switch between documents via Ctrl + Tab. This makes editing your document as easy and natural as browsing the web.
Drag & Drop: WPS Office Advanced Paragraph Layout is a drag-and-drop tool that lets you adjust each paragraph naturally. By simply moving the mouse, you can change the paragraph position, space, and indentation.
Download and Install WPS Office
If you want to download this app on your Android, Windows PC, or Mac, you can first go to Play Store, Microsoft App Store, or Mac Store to find the app or you can easily download any of the download links given above.
Frequently Asked Questions
Finanl Words
WPS Office is a comprehensive app for all your document processing, organization, and collaboration needs. The application enhanced its spreadsheet software by adding built-in formulas and support charts. Meanwhile, the presentation suite has a presenter mode that plays your slide shows with a laser pointer.
WPS allows Office users to easily create, edit, read and share documents, making work easier, more efficient, and fun. So, download it right now and use this app for your business work.